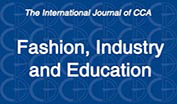 Aims and Scope
The Research Journal of the Costume Culture is the official journal of the Costume Culture Association. It was launched in 1993. Abbreviated title is 'Res. J. Costume Cult.'. It is devoted to publication of a wide range of research that will contribute to inform the practice of costume culture. Articles published by the Costume Culture Association (CCA) with the aim of accelerating the global exchange of ideas and theories in the field of textiles and clothing. The journal has its major focus on the cultural, aesthetic, historic and psychological aspects of clothing as well as on other areas such as marketing or textile science. It is published bi-monthly in February, April, June, August, October and December each year. It is published by Guhmok.
Total or a part of the articles in this journal are indexed/ abstracted in DOI/Crossref, Korea Citation Index (KCI) and Korea Science Citation Index Service (KSCI). All of the manuscripts are peer-reviewed.
Full text is freely available from: http://www.rjcc.or.kr
Copyright
Submission of a manuscript implies:

▶ that the work described has not been previously published (except in the form of an abstract);
▶ that it is not under consideration for publication elsewhere;
▶ that it has been approved by all co-authors, if any, as well as by the responsible authorities at the institution where the work was carried out;
▶ that, if and when the manuscript is accepted for publication, the authors agree to automatic transfer of copyright to The Costume Culture Association;
▶ that the manuscript will not be published elsewhere in any language without consent from The Costume Culture Association;
▶ that written permission has been obtained by the authors from the copyright holders of material used from other copyrighted sources.

All articles published in The Research Journal of the Costume Culture are protected by copyright, which covers the exclusive rights to reproduce and distribute the article, as well as translation rights. No part this publication may be reproduced, stored in any retrieval system, or transmitted in any form or by any means, electronic, mechanical, by photocopying, recording, or otherwise, without prior written permission from The Costume Culture Association.
Disclaimer
While the advice and information in this journal are believed to be true and accurate at the date of it goes to press, the authors, Guhmok and The Costume
Culture Association, do not have any legal responsibility for any errors or omissions that may be made. They make no warranty on expression or implications, with respect to material contained herein. To the extent permissible under applicable laws, no responsibility is as assumed by Guhmok or The Costume Culture Association for any injury and/or damage to persons or property as a result of any actual or alleged libelous statement, infringement of intellectual property or privacy rights, or products liability, whether resulting from negligence or otherwise, or from any use or operation of any ideas, instructions, procedures, products or methods contained in the material herein. The opinions expressed in this journal belong to the authors and do not
necessarily reflect of opinions of Guhmok and The Costume Culture Association.